Welcome to ivolve

We're here to support people to flourish in a place they call home.

Our approach is all about activities and co-production with the people we support. We work with them to design and plan what we do – so we can create the best experiences.

And we're on a mission to benefit even more people. We're uncompromising on our quality of care and support.

It's the professional expertise and passion of our team that makes us different. We genuinely care and we love supporting people to set and then reach their goals.

Because every person deserves the very best experience – every day.
About ivolve care & support
Fabulous People

Colleagues

People we support

Across England and Wales

Partners

Local authority & Integrated Commissioning Groups

Locations

Residential and supported living
"My sister is now such a happy woman and thrives on knowing she has a good support network." 

"The team helped me to learn to do things I wasn't able to do before."
26 years of history
We have a proud history. We've grown from smaller businesses into a large-scale provider of adult social care.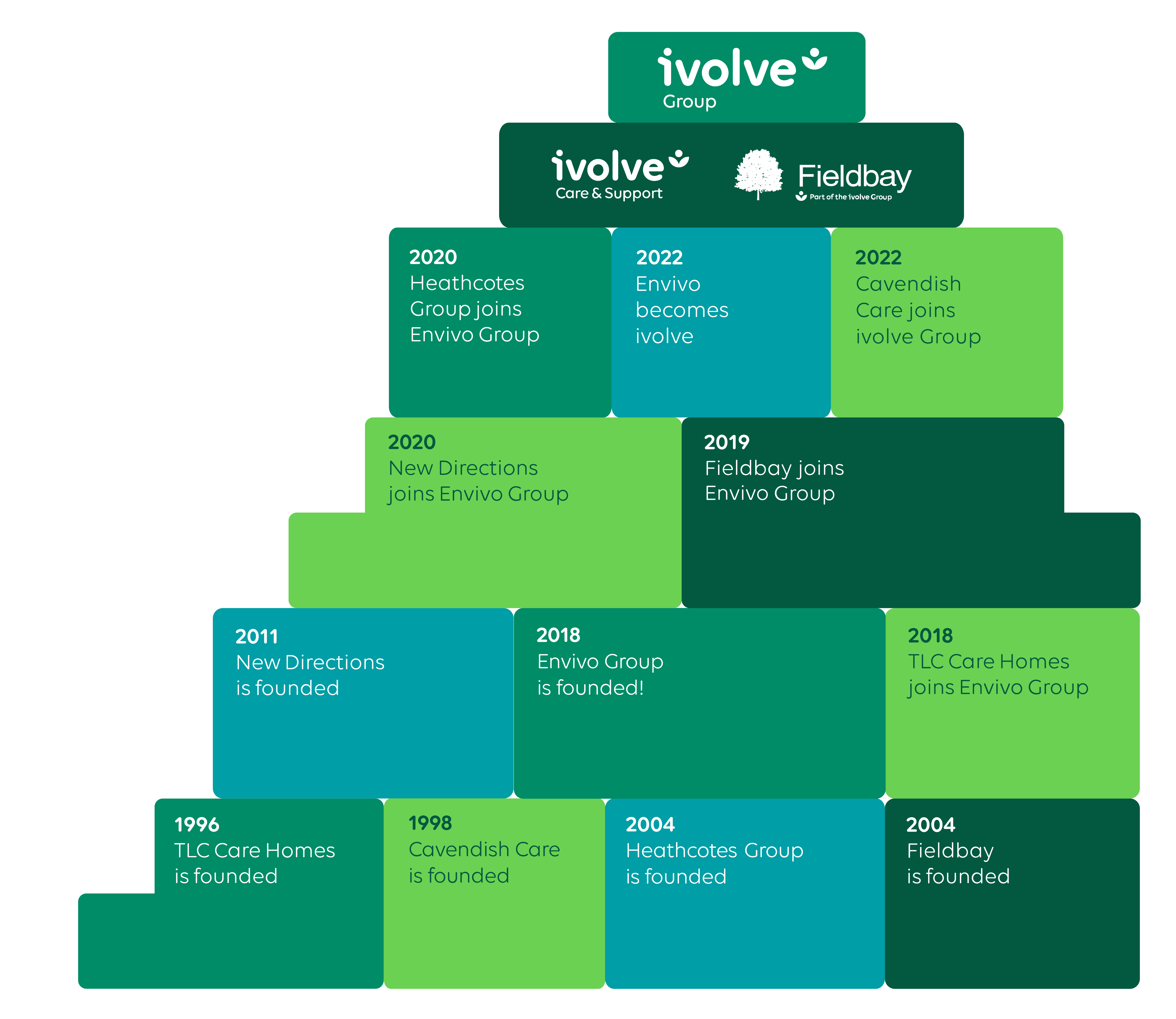 Supporting people to flourish in a place they call home.
We support people with lots of different needs such as learning disabilities, autism, neurological conditions, Acquired Brain Injury (ABI) including Huntington's and Parkinson's disease, and mental health.
Person-led Support: We take time to get to know people so that we can empower them to be in control of their lives. To make important decisions about how they want to live and how their support is delivered.
Co-production: We thrive on working with the people we support to shape and create the best experiences together.
Families, friends and carers play a hugely important role in people's lives, so we involve them as much as possible in the care and support of their loved ones.
​
We're all about relationships
We build and nourish relationships with the people we support, their families and friends, health and social care professionals and local communities.
We offer high-quality services for Local Authority Commissioners and Integrated Commissioning Groups. Our track record shows we have high standards and we create innovative models of care and support.
The size of our business means we can offer local delivery of robustly tested services.
Quality Matters
We're driven by getting it right for the people we support. Everyone is empowered to speak out and challenge anything they wouldn't accept for themselves or a loved one: "The standard we walk past is the standard we are willing to accept".
We take great pride in being regulated by the Care Quality Commission and Care Inspectorate Wales for our standards of care and support.
People First
Our leaders work hard to attract and retain the very best colleagues because we know this creates the best experience.
​