Support Worker I

nduction
You don't need any care experience - we'll support you all the way.
Your learning journey starts as soon as you accept your offer and carries on throughout your career with us.
We make sure that you have the knowledge you need to provide the best possible care to the person you are supporting. Your Support Worker induction starts with 'core' training for the Support Worker (Care Certificate) Standards. You'll get to know what's expected of you, understand the types of settings we have, and know what good care and support look like.
We'll keep building on this with further learning sessions tailored to the person you are supporting. For example:
> Moving & Handling
> Epilepsy with Buccal Administration
> Safe Swallowing
> Physical Intervention
Once you start work at your service you'll have a full local induction. This will teach you about your location and the person you're supporting. Plus you'll get to know your team. In the early weeks and months, you'll carry on learning more of the skills and knowledge you'll need.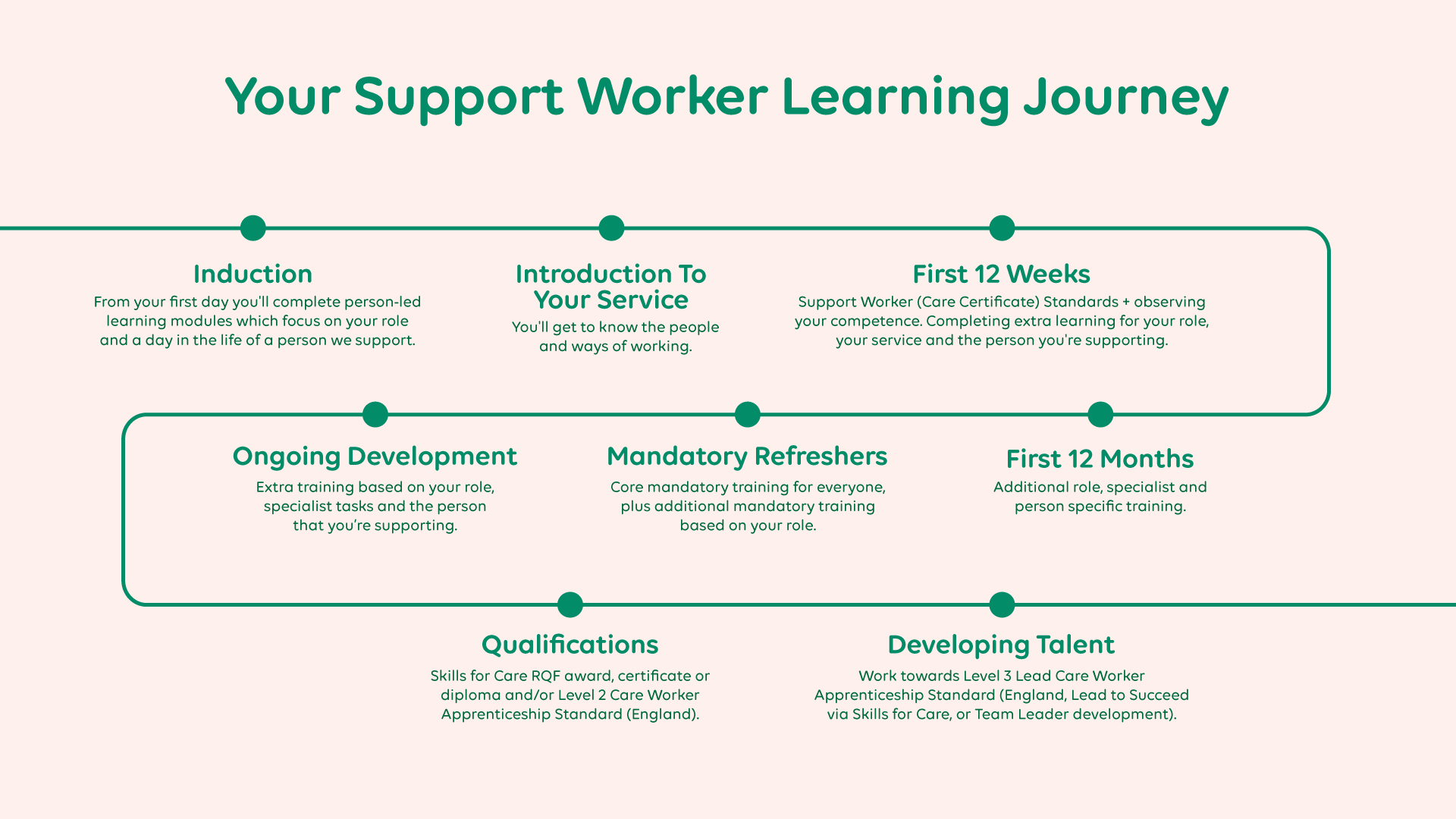 ​
​

Apprenticeships
After completing your probation you can study a range of short courses, qualifications, or a full Apprenticeship. The qualification options include
Level 2 and Level 3 Health and Social Care related subjects

Level 5 Care Management.
Apprenticeships are a great way to develop your skills and progress your career.
> Level 2-5 apprenticeships
> Gain nationally recognised qualifications in a minimum of 12 months
> Learn alongside your job
> Support to gain English and Maths GCSEs

​

​
​Specialist

Training
We are proud to have our own Specialist Training team to help you to boost your skills. Specialist care training is tailored to the person you're supporting. You'll have regular training needs reviews to identify the subjects to train in.
Specialisms include Autism, Dementia, and Mental Health learning pathways
The team also supports you with Physical Intervention training. We pride ourselves in knowing when, how, and why using any restraint is appropriate.
Alongside this, we have a strong ethos and approach towards Positive Behaviour Support. In April 2020 the Restraint Reduction Network collaborated with Health Education England. They introduced a set of ethical training standards that protect human rights and support minimising restrictive practices. We've ensured our training fully meets this expectation, as we pride ourselves in knowing when, how, and why using any physical intervention is appropriate, while constantly reflecting on the identified needs. More importantly, you will be trained in approaches that have the primary goal of improving individuals quality of life and the secondary outcome of being able to reduce behaviours of concern/distress.