Back to Locations
Clacton-on-Sea

CO16
​In Clacton-on-Sea we have 5 fabulous services.
Mill Lane is a newly renovated residential care home, based in Weeley Heath, a short drive out from Clacton's town centre and beaches.
The fresh, modern style was designed in partnership with the people we support. It's perfect for the needs of young people aged 18-25, with autism and complex needs, embarking on their journey to independence. There's a lovely communal lounge, a large garden, and a shared sensory bathroom which has a spa bath and adjustable lighting.
We pride ourselves on establishing meaningful positive relationships with those we support, providing them with familiarity, stability, and a homely environment. This includes plenty of activities including swimming, dancing, or holidaying in Center Parcs.
We're close to the local community with great public transport access to Clacton-on-Sea and beyond. Weeley train station is a 10-minute walk away.
At Point Clear Road, St Osyth, we have a 5-bedroom house supporting people with learning disabilities and autism. Our dedicated team includes some colleagues who have been at Point Clear since it opened in 2007 with years of experience and some have just started their journey in the care sector. All have varied backgrounds but share the same values and passions.
We support people with varied tasks and activities, ranging from personal care and preparing meals, to supporting them on their chosen holidays.
Our team loves to cook with all the people we support so they can enjoy lovely homemade dinners, and we enjoy planning meals and menus and then shopping for the ingredients together. We are also lucky to live near so many beaches we have Seawick beach which is only an 8 minute drive in the car, St Osyth holiday park beach which is only a 9 minute drive, and also Clacton beach which is also only 15 minutes drive.
We get out to Clacton and enjoy a fish and chip lunch as well as go to the pier to play bowls. We also visit the local village pub where they enjoy playing darts and pool. There is a regular bus service to the home and parking available for drivers.
Wellwick House is a large residential home in St Osyth, opposite the Priory and overlooking fields of deer and rare breed cattle.
Those who use our services have person-centred support plans and health plans and are often very busy with their chosen activities which include college, swimming, theatre, spa, horse-riding and going out for dinner.
Wellwick House is a large listed building with a separate activity room where we all enjoy arts and crafts, bar football, listening to music, reading, playing board games, or holding special occasion parties.
We also have a large garden where we like to relax on the swing and play on the trampoline. Or simply soak up the sun with a nice cup of tea in our seated areas. Our team is dedicated and driven. Most have long backgrounds in care and have been at the home since it opened in 1999; some have just started and we are happy to guide them so they can build their career.
Weeley Bridge is in CO16. Weeley Bridge is a supported living bungalow in a little village with a local bakery, post office, shop and bus stop as you step outside enabling travel to all area's in Clacton-On-Sea and into Colchester.
There is a local Caravan park that has some on-site entertainment and café that is only a 10-minute walk away. We also have a car to use at the service so we can get out to the community to do plenty of activities such as boat trips, bounceability, willow park, beach days and holidays to Butlins and Centre Parcs. Weeley Bridge is a 5 minute walk from the train station that runs frequently. Day to day we also support with teaching and enhancing life skills such as washing, cooking, cleaning, to help the person we support with independence.
We also pride ourselves on the progress of the person we're supporting, particularly with communication, and relationships with family and the community.
York Mews has six spacious and modern one-bed apartments and a two-bed apartment. These properties are perfect for people who wish to live independently but require some support.
They are available for rent through Auckland Housing Solutions, with supported living services provided by us for people with learning disabilities. We offer dedicated colleagues on site 24 hours a day, with personalised one-to-one support, where required.
We're only a few minutes walk from the main High St and an abundance of shops and amusements. This service offers access to a wide community of activities including the famous Clacton Pier and has excellent links to public transport both train and buses within a few minutes walk.
Colleagues are here to support individuals to make choices and take the lead on their daily activities and plans. Colleagues also support with household chores, shopping, managing finances and making and attending health appointments as well as social activities and accessing the community for education and work.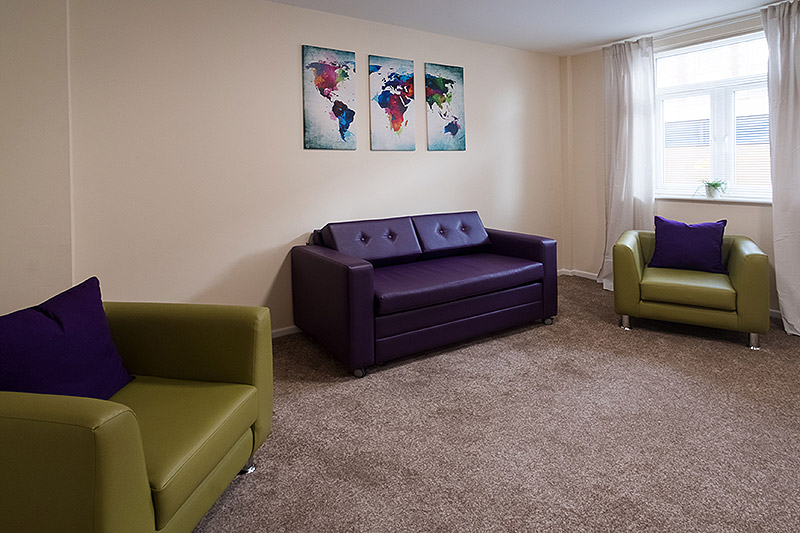 ​